...From a little book I made...
G for Geometrical
... ornament based on patterns made of lines, squares, circles, etc...
I like that designs based on geometrics can begin with simple elements and become quite complicated with their repetition....
... I loved the geometrics in this 13" x 12" x 26" cabinet, that I found at a flea market... I use it for bead storage... I like looking at the repeating rhythm and knowing it is a functional object...
Simple triangular elements where color makes the pattern bolder... Although I love making quilts I found this one at another flea market... rather Amish feeling...
H for Hippocamp
... mythical marine monster with a head, body and forelegs of horse .... tail of fish; ........Poseidon's horse.........
Sometimes referred to as
hippocampus
in Greek and Roman mythology... the ancients believed they were the adult form of the sea-horse...
...there is also a part of the brain referred to as the hippocampus... it is involved in memory forming, organizing, and storing.... It is particularly important in forming new memories and connecting emotions and senses, such as smell and sound, to memories.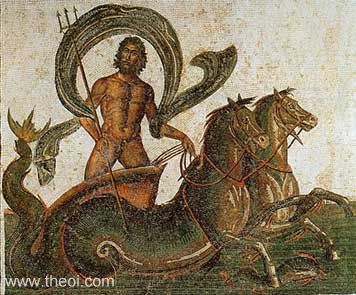 ...
mosiac from Sousse Museum, Sousse, Tunisia... Imperial Roman Period, C3rd AD.




Poseidon (Roman Neptune) with trident in hand... drives a chariot drawn by four Hippokampoi through the sea... a floor mosiac from Ostia Antica, Rome, Italy
I for Interlacing
... ornamental patterns of bands, woven or plaited together
Over.. Under... In ... and Out... ............That is what this is all about...
A appliquéd portion of a front panel of a vest I did representing interlacing, twisting, twining Zoomorphic bird necks... I love Celtic art and the patterns and designs created from that period...
..a few fringes of a striped blanket I spun and wove back when I kept sheep and Angora goats... I love the heft of these fringes and the flip-flop that they make when moving the blanket...
All of the colors were natural in this... no dying...The natural fleece was from my sheep... the colored fleece was from a friends..... we traded.... I taught her to spin and weave... she gave me some beautiful Border Leicester fleece... and her friendship...
...the interwoven canes of a very large, 24" across basket I use to hold lots of teased fleece. I keep it in a spot that I can't miss, so it will draw me back to it one of these days... spinning is so meditative and relaxing... if you have never tried it, you should... it really helped me to understand how threads, yarn and fabric were created...
...from my "ABC's of Patterns" book ... Click for the introduction of
ABC designs
....... and the
DEF designs
post...
and
here for J
approx. 6" x 7" x 1"... ...handbound...
.